ENERGY! ENTHUSIASM! EFFERVESCENCE!
I bring it to your group! Getting people PUMPED about their lives is my mission! I'm available to talk to groups about:
KEEPING YOUR SPARK – THREE WAYS STORYTELLING CAN EMPOWER YOU – WRITING YOUR INCREDIBLE STORY
AND MORE!
Stories! We all connect with each other through stories, and my passion is sharing them with others! My passion for speaking come from my desire to inspire, educate, entertain and share that we all have a story worth sharing. I help people see what's possible and shift to a more enjoyable, fulfilled life! My words help new authors, entrepreneurs, and all seeking a new mindset find the confidence to change their story and share their words with the world. Your words truly are as good as gold because each of us has a unique story to tell.
KIM HAS SHARED HER MESSAGE WITH:
---
On Purpose Woman – Connections Over Coffee
Cracking the Confidence Code
Keeping Your Spark
National Speakers Association Virginia Chapter – February 7, 2020
Presented "Three Ways Storytelling Empowers Your Speaking and Business" in Richmond, VA.
NSA Virginia is Virginia's leading source for community, education and entrepreneurial business knowledge needed to be successful in the speaking profession. We are professional speakers who are enthusiastic, dynamic and want to elevate our businesses to the next level. Many of our members have achieved national recognition.
Our workshops and events are open to anyone who wants to learn from experts who speak, train, coach and consult all over the world.
If you are a professional speaker or an aspiring professional speaker, NSA Virginia is the place to be!
---
Synapse Hub 005 Make-A-Wish
Presented "Celebrate Your Snort" at the Make-A-Wish Greater Virginia headquarters in Richmond, VA on January 22, 2020.
---
Synapse Hub 102 at Elk Hill – Special Speaker Kim Eley
Kim Eley shared three ways storytelling can empower you with the members of Synapse Hub 102 at Elk Hill School in Charlottesville, Virginia. What a fantastic group!
Elk Hill Charlottesville School continues to grow and progress since first opening its doors to 10 students in 2010. The EHCS staff and administration work hard to enable children and families to transform overwhelming challenges into successful futures. Through specialized education tailored to each individual student, EHCS strives to provide our students with opportunities to succeed in their academic endeavors as well as providing a safe environment conducive for personal growth and development.
---
On Purpose Women Connections over Coffee October 4, 2019
"Keeping Your Spark" – Unity Church of Bon Air
Passion has been described as a flame, a burning desire to accomplish something. Motivated women use their passion to fire up their creations, including careers, projects, and art. But how is that initial passion, when everything is "hot," kept alive later when you're worn down or burdened by a hectic schedule? Do you still feel "on fire," or do you feel more like ashes and embers?
How do you keep your project moving forward when you're not feeling "on fire"? Find out how to sustain a flame, or reignite an ember, in Kim Wells Eley's presentation, "Keeping Your Spark"!
---
LIVE RADIO INTERVIEW LIVE WITH AIDEEN T. FINNOLA AUGUST 14, 2019
Knowing your truth is one thing, but telling your truth takes it to the next level! One of the most powerful and empowering ways that you can tell your truth is through writing and publishing your story, whether that story is fiction or non-fiction! Kim Eley of KWE Publishing is an expert in empowering her clients to tell their truth through writing and publishing their stories!
Having the desire to tell your truth in print is one thing; turning that desire into a reality is another thing altogether! Some of the biggest hurdles to overcome are emotional hurdles inside yourself. Hurdles like "I don't have what it takes," "Who do I think I am to become a published author?" and "What will people think?" Kim Eley of KWE Publishing has years of experience in coaching her clients over these emotional hurdles and walking them through the practical steps of the publishing process.
---
FEATURED SPEAKER FOR GIRL SCOUTS MAY 21, 2019
---
AGILE WRITER CONFERENCE JANUARY 26, 2019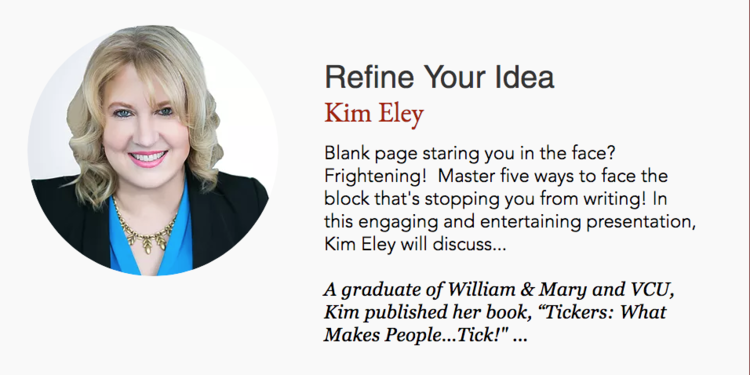 ---
MIDSUMMER NIGHT'S AUTHOR READ
August 3, 2018
Participated with Tanya E. Hood and Cherie Blazer on the Patio of the Richmond Marriott Short Pump Hotel. This event included great conversation, readings, refreshments and an interview with each of the guest speakers.
---
RELATIONSHIP FOUNDATION OF VIRGINIA
---
LOVE, LIGHT & POSITIVITY
Yemaja Jubilee, TV Host | Season 4 Finale Episode
Guest speaker with host Yemaja Jubilee discussing love, June 19, 2018
---
FABWOMEN
"Your Words Are As Good As Gold! Use Content Marketing to Grow Revenue"
June 15, 2018 – Charlottesville, VA
Common House | 206 West Market Street
May 11, 2018 – Richmond VA
Meadowbrook Country Club | 3700 Cogbill Road
---
RADIO INTERVIEW AND FACEBOOK LIVE WITH SHIRLEY T. BURKE
---
DISABILITY LAW CENTER OF VIRGINIA
"Finding – and Keeping – Your Passion!"
Synapse Hub, January 16, 2018
---
UNITED NETWORK OF ORGAN SHARING (UNOS)
"Gifts – What Legacy Are You"
Synapse Hub, December 5, 2017
---
VIRGINIA VOICES – WITH JENNIFER ROBBINS RILEY
Discussion about Kim's book "Tickers: What Makes People…Tick! And Pursue a Career They Love!"
395 Azalea Avenue, Richmond VA, 2017
CLICK HERE TO HEAR KIM'S VV INTERVIEW
---
INTERVIEW WITH SHIRLEY T. BURKE
"Speaking from the Heart"
WCLM Radio, 1450/AM, July 20, 2016
---
DC SPIN
"Flipping the Script: Motivate to Cooperate"
Washington DC Software Process Improvement Network, – November 5, 2014
---
CMMI TECHNOLOGY CONFERENCE & USER GROUP
"Chutes and Ladders – CMMI® – ISO Considerations" with Kate Roehling
National Defense Industrial Association CMMI Conference,
Denver, CO, November 16, 2011
---
Contact Kim at…
804-536-1972 or [email protected] for scheduling speaking engagements! We look forward to hearing from you!